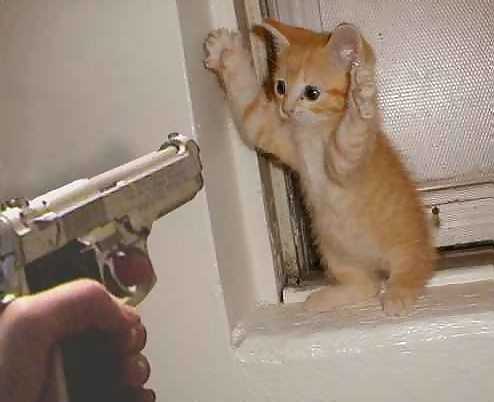 According to
Reuters
, the Florida Congress has just passed a law to allow Floridians to bring their (registered) guns to work, provided that they keep them in their car. The law can still die if Florida's governor,
Charlie Crist
, decides to veto it. But just from the way he looks, that doesn't seem likely.
The purpose of the law is to prevent business owners from prohibiting people from keeping their semi-automatics locked in their cars on private business property. The law actually applies not only to the business' employees, but also to customers and other individuals "invited" to the premises.
There are so many things wrong with this, I don't even know where to begin. Proponents of the measure claim that the law will provide people with additional self-protection in case of an emergency as well as uphold their Constitutional right to bear arms. First of all, I can't remember a time where I was at work, thought to myself "dang I wish I had my
gat
right now," and it was for self-defense purposes. Usually it's when I'm in a boring meeting or someone is getting on my nerves (not at ZAZZLE, but other places I've worked lol).
Sure there are times where people have
shot up
the workplace, but they are usually disgruntled workers! At least before when the boss fired someone, he could give his other employees 30 minutes to an hour to dip out before dude came back from his house with his
heat
. But now Florida's allowing those crazy employees to take a one minute stroll to the parking lot to get
strapped
up??? How much sense does that make?
Plus, what are the workers going to do if someone
does
come into the office spraying bullets? It's not like they are gonna run out to their car and come back doing their favorite
Jack Bauer
impersonation. No, if they are fortunate enough to make it to their car, they are most definitely driving home. It just seems to me that allowing guns on the premises will just increase the likelihood of office rampages and not "protect" people from them.
And of course the
National Rifle Associate (NRA)
is very excited about this new law. In fact, they were the ones who pushed it through Florida Congress. I bet
Charlton Heston
is LOL right now from the dark fiery depths of... Naw I'm not gonna even take it there. Speaking of getting shot at:
Anyways, in my best
Hubie Brown
impersonation, I'll say this. If
you
are a worker in Florida,
you
had better be kind and sweet to all of
your
coworkers, because
you
never know when that one slight or offensive comment will leave
you
looking like swiss cheese... I'm just sayin'...
Yup, this is the world we live in...